Today is June 1. I'm issuing a challenge to myself to see if I can raise my Alexa ranking in the next 30 days.
Luckily, my ranking at the moment is pretty rank! I'm off to a good start!
The Starting Line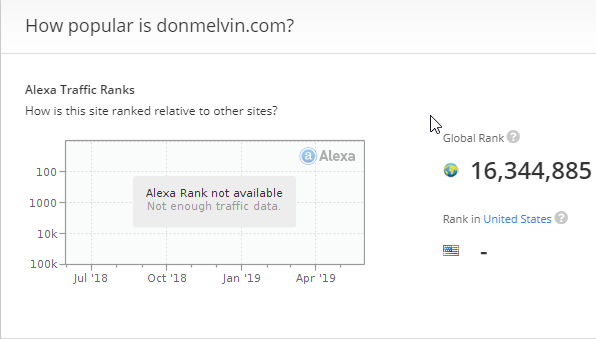 Alexa.com barely knows I exist. It's odd to me that I have a global rank but nothing in the US.
What's the Goal? Process or Results?
As a parent of young kids, finding ways to help them do well in school is something we do.
Quite a while ago, I was reading an article about whether rewarding them for grades was effective.
They did some studies with school kids and basically found that telling the kids they'd get rewarded for good grades had little effect. Some kids showed a little improvement but for the majority, it really had no effect.
What they did find, though, was that rewarding the kids for good habits and processes had a significant effect.
In interviewing the kids, they found that the kids thought that there were too many forces outside of their control to believe that they could control the outcome, so their motivation to make an increased effort was lacking. They also found that since it was a future result, there was still time so procrastination was a factor.
However, rewarding the kids for the process was something they had complete control over.
It was immediate. Every day they knew whether or not they succeeded or missed. It also couldn't be fixed after the fact. If they didn't succeed on Tuesday, they didn't succeed for Tuesday. Even if they did Tuesday work on Wednesday, Tuesday was still a miss.
The Finish Line
The Finish Line is going to be June 30. I know the when, but I don't know what the result will be.
In general terms, the goal is an improvement in both my global and US traffic rank. I don't think it makes sense to set a goal like "My global rank will be XXX". I really have no idea what factors go into Alexa.com's ranking calculation.
But I can control my process.
For the next month
I will make two posts per week
I will share them with on my social media accounts
I will post my traffic ranking each Sunday
Question for you…
The first post of the week is going to be Tuesday. For the second post, either Thursday or Friday. Which day do you think is better?
---
Thanks for reading and best wishes for success,
Don
PS
Though I'm posing this as a challenge to myself, that's mostly because of the constraints on my time. This is really just one of the many techniques that John Thornhill teaches in this Partnership To Success program
John has again improved the program. Even if you've already checked it out didn't think it was right for you at the time, check it out again. It only gets better and better!