It's September of 2020, one of the most difficult years in a long time. It's a very disruptive year, people are rethinking what they're doing. Which means people are looking for different ways of making money so can be do better.
And like anytime we have major disruption, opportunities are abundant.
A big area right now is producing low content books for Kindle Direct Publishing (KDP). These can be ebooks or physical books done a Print On Demand (POD).
A POD book is printed when someone orders the book. There is no upfront cost, no guessing how many you need, and no warehousing or fulfillment needs.
Just Released…
Today is the release of a product called Passive Income Publishing by a mother/daughter team who are fellow members of John Thornhill's Partnership To Success coaching program.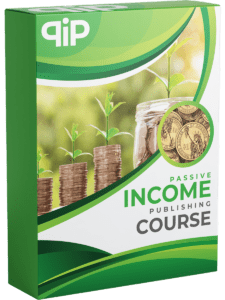 Why should you care about that? John and his partner Randy are both very successful, well-known marketers. The also have a reputation to maintain so they have a vested interest to make sure their students don't release crappy products. They also have the experience to know what's good and make sure anything released is going to be good quality. A definite advantage for anyone considering investing in a product.
What is it?
PIP is a program about creating low content books (LCB) and publishing them on Kindle Direct Publishing (KDP).
What's a low content book?
A low content book is a book designed for the purchaser to use, one that they will fill out. You provide the framework, they provide the content.
Examples are journals, planners, activity books for children and adults (look at all the adult coloring books that are being sold!), DIY recipe books, and many, many, more.
Advantages
Can be done at little or no cost
Your book can be available quickly
Fairly simple to set up
Disadvantages
Online documentation isn't always clear (at least not for me)
There are a lot of books there, standing out requires good use of categories and keywords
Who is PIP for?
This is mostly for someone who is not an experienced publisher. It's a complete course from picking a topic to creating your book and getting it published.
Though having just said that, if you do have some experience with KDP, you might want to consider the main product anyway. It has a very good section on topic and keyword research. It's better than any other KDP program I've seen and at the low cost, it's well worth it for that alone.
For example, one thing that makes KDP different from affiliate marketing is in building you list. When someone buys your book, Amazon DOES NOT tell you who the purchaser is so you can't add them to your buyers list.
Marlene and Michelle show a simple way to accomplish this. While it probably won't be 100%, it should do a lot towards building you list. This tip alone is worth more than the entire cost of the initial product.
One of the other things I like about this program is that they put book quality over quantity.
Most of the other LCB programs I've seen follow the 'spaghetti against the wall' philosophy. I've seen programs that suggest you release 20-25 products per day! Yeah, you'll get a lot out there, but I can't imaging you'll sell much, especially once reviews start coming in.
As digital marketers, our reputations are important. Marlene and Michelle realize this and aim for quality.
What's in this course?
The main training has several sections which are both videos and PDFs. These include an explanation of KDP and how it works, how to do research to decide whether an idea is has a market.
Overview (video/PDF)
Topic and keyword research, includes suggested tools, free and paid (video/pdf/checklist)
Planning your book (video/pdf/checklist)
Creating your book (video/pdf/checklist)
Preparing to publish, the meta data to increase sales (video/pdf/checklist)
Uploading to KDP (video/pdf/checklist)
Final tips (video/pdf)
You won't make a million with this but I think you could make get a decent monthly income from this with a bit a consistent action
Available Add-On Products
Seven pre-done sets of interiors. Each set has multiple versions so can an produce several different books out of each package
Five sets of pre-done theme-based covers for your books, 128 in all!
A Done-For-You service. Originally, I wasn't going to recommend this, since the course does a good job and you don't learn as much if someone else does it. But that changed when I looked at the details. I thought they'd publish a book for you, but this includes all of it, they'll develop a book for you.
A monthly membership site to help further your efforts
Yes, I bought it!